Event 08/11/01: Rocket Launch: Tripoli-MN: North Branch

It was a perfect day for launching up at North Branch at the Tripoli Minnesota launch.
It looked like lots of people were having great flights. I didn't see many of them because I was pretty preoccupied most of the day. The BHR (Big Honkin' Rocket) flight was one highlight I did see, awesome (even though the second stage didn't ignite, the third did)!

Another highlight was Ed Ryan & Dan Nestor's Gemini Titan flight on two G35 motors. The machined aluminum nozzles are a work of art: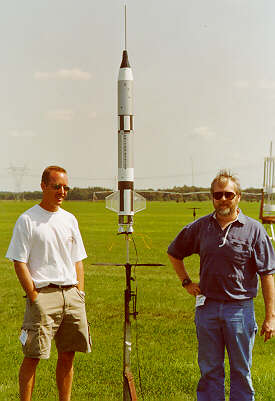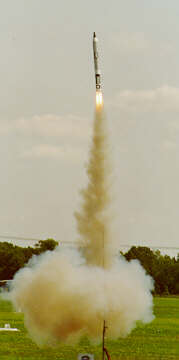 In the morning, my father Paul came so I could launch his recently completed BAR/ChristmasPresent rocket, an Aerotech Strong ARM. He did a nice job building it and we were rewarded with a flawless flight on an F20 Econo-Jet (after the first copperhead popped). Even had nice sound effects and great smoke. The rocket was recovered in perfect shape, a big relief for both of us. See more photos of that StrongARM flight here.
Dad had helped get me into rocketry at around age five or six and he built several of the classic rockets you've seen me launch over the last year: Estes Trident, Mars Snooper, etc. It was nice to be able to return the favor and get him back into the hobby and introduce him to mid-power. Now to get him active in the club and building more rockets ...



Next was a frantic effort to put the finishing touches on my first high power rocket, my BSD Thor (4" x 7', around 6lbs loaded). This is the one that I brought in pieces to LDRS and worked on 'till the wee hours each morning in hotel rooms but didn't finish in time to fly there. It was looking like a repeat story but last night I finished the paint job and rigged the recovery system (Rocketman R7 w/deployment bag) and today added the really cool decals.
Alan Estenson helped me order and prep an I161W for it's first flight. Rocksim suggested a delay of 7.5 seconds which left me in a quandary about what delay to order since a short (6 sec) would be too early. I went with a medium (10 seconds) and committed myself to using my Magnetic Apogee Detector to try to peg the proper time. A huge thanks to Mike Maurer for loaning and prepping an ejection charge for me.
I was finally ready to fly around 4:30, about an hour after Mike asked me "So are you shaking yet?" and just made the last rack of the day. Glen Overby assisted me at the pad with loading and arming the rocket.


(phtoto by Alan Estenson)





(phtoto by Michael Mauer)
With Mike Vande Kamp videoing and Alan, Glen, & others photographing, the metallic blue and silver beast finally ignited after a frustratingly long 5-10 seconds.
It slowly rose to about 1300' and had a perfect ejection right at apogee. About two seconds later, the puff of the motor ejection could be seen. The chute deployed cleanly from the bag (thanks Jodi and Ky) and the rocket floated down for a nice soft landing. Whew, what a relief!


(phtoto by Michael Mauer)
So we only made two flights today.
-Jeff Hove NAR 78680 *** L1 *** !!!
Flight Results:

| | | | | | |
| --- | --- | --- | --- | --- | --- |
| Owner | Rocket | Motor | Notes | Est. Alt | Results |
| Paul | Aerotech Initiator | Aerotech F20-4W EJ SU | First Flight, BAR | 800 | Very nice flight. Popped ignitor on first try but execellent ignition and crackling black burn on second attempt. Perfect ejection and nice landing with no damage. |
| Jeff | BSD Thor | Aerotech I161W-Med | First Flight, L1 Cert, Magnetic Apogee Detector, Rocketman R7 chute w/Nomex deployment bag | 1200 | Perfect! Motor ejection charge went off about 1.5sec after MAD deployed chute. Nice landing, no damage, just one scratch. |
See the photos of this launch on the Minnesota Rocketry Network.

Back to STAC page
Back to Jeff's Rocketry page
Back to Jeff's Home page