MASA 01/27/01: Rocket Launch

This was my first launch at the White Bear Lake Sunrise Middle School field. It is very wide East-West but narrower North-South. Still larger than the Battle Creek Middle School field I normally launch at.

It was a bit chilly, around 20 degrees, but perfectly clear and light winds at first but they quickly picked up.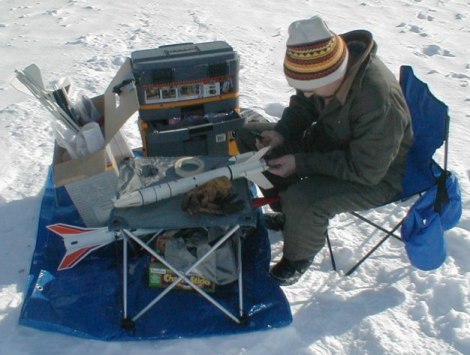 My equipment consisted of: Rolling toolbox, tarp, shovel, folding chair & folding coffee table. Duffle bag of miscellaneous. Large box of rockets.
This time to keep the motors warm, I left them in the car in an electric cooler/warmer. To keep from cooking the motors, I put my Hudson's map book on the bottom and left the lid open.
(Photo by Alan Estenson)
I arrived late, 11am and the winds caused us to wrap up at around 12:30 (?). Mark Thell was nice enough to drive home and get his very long snow rake pole to help me (with Glen Overby's help) get my Orion out of a tree.
My Flight Results:

| | | | | | |
| --- | --- | --- | --- | --- | --- |
| Owner | Rocket | Engine | Notes | Alt | Results |
| Jeff | Centuri Taurus | Estes C6-3 | Nylon streamer | 500 | Nice launch, but streamer wrapped around tail and wasn't large enough to prevent high rate of cescent, nose first. Snow-darted near pad. Very minor damage, exaggerated existing kink in small tube, softened top of tube but nosecone still fits well. |
| Jeff | Centuri Orion | Aerotech D13-4W 18mmRMS | Glen's 14" nylon chute | 1200 | Winds picked way up. Perfect, loud launch and deployment. But drifted off-range and landed in tree. Glen and Mark helped get it down with a pole. Tree extraction caused damage: shock cord ripped off, body tube zippered, broke one fin, broke two pods, one pod lost. I searched the snow and the whole range and didn't find it. Left address with homeowner in case it shows up this spring. |
Some of the other memorable flights were:
Alan Estonson's flying Monolith (a la 2001) made a very nice and surprisingly stable flight but blew it's top off during ejection.
A fat boy loaded with "standard altitude marker" streamers went a bit too horizontal and deployed about 100' above the school and landed on the roof.
Alan had a spectacular cato at about 50' of a small contest rocket on a Quest A6-4 that he "found abandoned" at the Hub warehouse.
A V2 drifted off range and was picked up by a local resident. The rocket's owner thought it had been stolen, but while recovering my Orion from the tree, a neighbor called over to us that he had the V2, so Mark took it.
Something very tall and skinny made a nice flight with an ever-so-gentle deployment.
Glen's first flight, which I missed, apparently was an unstable aerobatics session. The second flight I saw was very nice and straight.
Someone else (Alan?) had a rocket that corkscrewed all over the sky, landing very close to me as I walked back after my run after the Orion.
I beleive the tally was 33, but I only got 2.
See the MASA Launch Report and MASA Photo Gallery for more details.

Back to STAC page
Back to Jeff's Home page